Home / Band Calendar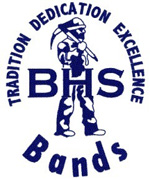 Welcome to the Official Home of the Bingham High School Bands!
We are located in South Jordan Utah, just 20 minutes south of downtown Salt Lake City. Whether you are a new visitor, past or present student, band alumni, local or corporate sponsor, or just a fan of the BHS Bands, we hope that you will find this site easy to use and entertaining to explore, but most of all we hope it is informative.
There are always new things happening here with daily calendar updates and additional information added constantly to keep everyone up with the latest news, rehearsal details, and performances involving the Bands at Bingham High School. Check here often for the latest from the Bingham High School Bands!
Click on these links for information regarding the Bingham music feeder programs and great bands at
South Jordan
and
Elk Ridge
Middle Schools.
Latest News and Upcoming Events
Congratulations to our Marching Miners for taking first place at the Wasatch competition this Saturday! The Miners came away with the percussion, visual, and music captions, and the first place trophy. Keep up the amazing work!
The California Tour for the marching band is on Tuesday, October 17, and will go until Sunday, October 22! Please remember that, due to the fires in California, the air quality will be worse than usual. Bring any inhalers or other medical items necessary to ensure your health during this trip. For more information on the schedule and what to pack, feel free to click on the link in the band calendar for details! We can't wait to see you all there at 6:30 on Tuesday!
The Band is asking for donations for a safety - related upgrade to our 50 ft. Marching Band trailer. The trailer is in need of a "tuck-away" lift gate to help load unsteady and top-heavy wardrobe boxes into the back of the trailer at shows and competitions.

These heavy boxes have come close several times to falling off our ramps and onto students, staff and parents. The units are between $10 and $15,000. Donations can be made in the main office at BHS and should be directed to the "BHS Marching Band. All donations are tax deductible. Thanks for your consideration.
Still offered for sale, it's time to purchase your Bingham Marching Band Pillows while limited supplies last!

Made from our former Bingham Band uniforms, they are now offered to the general public at $125 each. These are going to be RARE and orders will be taken on a first come, first serve basis with payment made in full in the BHS main office and the receipt with date and time stamps turned into the band office. Supplies will be EXTREMELY limited as we only have about 65 old band uniforms remaining and each pillow uses up an entire uniform jacket so reserve yours today! These are perfect for that hardcore Bingham fan, former band student, or BHS souvenir hound. Contact Mr. Graber or Marta Ahlstrom, Band Booster President for more information about these now that they have hit the market, and check out the pictures to see what the pillows look like! Don't miss out!
Directions to Bingham High School, 2160 W. 10400 S., South Jordan UT
From Interstate 15, take exit 293 (South Jordan) and travel west on 10600 South (which turns into 10400 South) 2.5 miles to the intersection of 2200 west. The band room sits on the southeast corner of the building, just off the diagonal parking lot.
Map It