Bingham High School Bands - Home / Band Calendar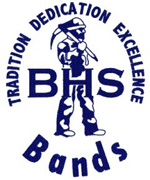 Welcome to the Official Home of the Bingham High School Bands!
We are located in South Jordan Utah, just 20 minutes south of downtown Salt Lake City. Whether you are a new visitor, past or present student, band alumni, local or corporate sponsor, or just a fan of the BHS Bands, we hope that you will find this site easy to use and entertaining to explore, but most of all we hope it is informative.
There are always new things happening here with daily calendar updates and additional information added constantly to keep everyone up with the latest news, rehearsal details, and performances involving the Bands at Bingham High School. Check here often for the latest from the Bingham High School Bands!
Click on these links for information regarding the Bingham music feeder programs and great bands at
South Jordan
and
Elk Ridge
Middle Schools.
Latest News and Upcoming Events
Band Camp is up and running! The dates are August 2, 3, 6-11, 13-15, 8 a.m. to 8 p.m. Band camp is MANDATORY. Not "kinda important" mandatory, Graber mandatory. Basically, be there. Meet every morning in the stadium unless told otherwise, where we will also end. Roughly, the schedule is 8-12 drill/fundamentals marching, 12-1 lunch, 1-4 sectionals, 4-5 combined sectionals, 5-6 dinner and 6-8 marching and playing back on the football field. Gallons of water, sunscreen, food, and more water are also Graber mandatory. Shirts with your designated number, in big black letters, and a dot book are also key tools in surviving camp. Other details and information will come more specific through section leaders.
Potatoes and Lanterns!! The fundraiser is in effect! The papers were handed out during the parent meeting. Our fundraiser is for Idaho potatoes and solar lanterns/flashlights. They are due September 6 and will arrive October 11. Potatoes are $25, lanterns are $35 and flashlights are $30. Students get 50% of the profit! This is a fan-freaking-tastic way to pay off some band fees. A mere 28 bags of potatoes sold will pay off $350. Yeah. It's that good.
The Libby Gardner Concert recording is now on the website ready for download. Go to the 'Sheet Music/Sound Files' link and you can download your copy.
The Band is asking for donations for a safety - related upgrade to our 50 ft. Marching Band trailer. The trailer is in need of a "tuck-away" lift gate to help load unsteady and top-heavy wardrobe boxes into the back of the trailer at shows and competitions.

These heavy boxes have come close several times to falling off our ramps and onto students, staff and parents. The units are between $10,000 and $15,000. Donations can be made in the main office at BHS and should be directed to the "BHS Marching Band. All donations are tax deductible. Thanks for your consideration.
Directions to Bingham High School, 2160 W. 10400 S., South Jordan UT
From Interstate 15, take exit 293 (South Jordan) and travel west on 10600 South (which turns into 10400 South) 2.5 miles to the intersection of 2200 west. The band room sits on the southeast corner of the building, just off the diagonal parking lot.
Map It