Bingham High School Bands - Home / Band Calendar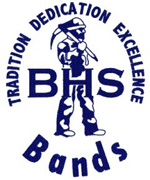 Welcome to the Official Home of the Bingham High School Bands!
We are located in South Jordan Utah, just 20 minutes south of downtown Salt Lake City. Whether you are a new visitor, past or present student, band alumni, local or corporate sponsor, or just a fan of the BHS Bands, we hope that you will find this site easy to use and entertaining to explore, but most of all we hope it is informative.
There are always new things happening here with daily calendar updates and additional information added constantly to keep everyone up with the latest news, rehearsal details, and performances involving the Bands at Bingham High School. Check here often for the latest from the Bingham High School Bands!
Click on these links for information regarding the Bingham music feeder programs and great bands at
South Jordan
and
Elk Ridge
Middle Schools.
Latest News and Upcoming Events
Applications and Interviews for 2019-20 Band leadership are April 24-26 in the BHS Band Room.

Forms available in the "Student Leadership" tab and signup times are currently posted on the band room doors. Please fill out the form and sign up for a time.

Congratulations to everyone who earned a superior rating in region solo/small ensemble. State performances are April 27.
The 2019 Marching Band kick-off meeting is May 1st in the BHS Auditorium at 7:00 pm. Anyone interested in participation for the upcoming season should plan to be there or have a rep show for them.
Marching Band registration forms are due Friday, May 3 in the main office with the non-refundable $150 deposit to hold your 'dot'!
The Final Spring Band/Orchestra Concert featuring the BHS Symphonic Band will be May 15 in the BHS Auditorium at 7:00 pm.
The first Marching Band fundraiser will be our annual garage sale on May 18 from 8 - 3 at Prospector Park north of BHS. Gather up your yard sale stuff, join us, and earn money towards your marching band fees! Print the event info sheet here!
The South Jordan Middle School Spring Concert will be May 16 in the BHS Auditorium at 7 pm.
The Libby Gardner Concert featuring the BHS Wind Symphony, A'Cappella Choir, and BHS Symphony Orchestra is May 22 at 7:00 pm. Cost is $5
The BHS Spring Percussion Showcase is May 23 at 7:00 pm in the BHS Copper Pit.
The Band is asking for donations for a safety - related upgrade to our 50 ft. Marching Band trailer. The trailer is in need of a "tuck-away" lift gate to help load unsteady and top-heavy wardrobe boxes into the back of the trailer at shows and competitions.

These heavy boxes have come close several times to falling off our ramps and onto students, staff and parents. The units are between $10,000 and $15,000. Donations can be made in the main office at BHS and should be directed to the "BHS Marching Band. All donations are tax deductible. Thanks for your consideration.
Directions to Bingham High School, 2160 W. 10400 S., South Jordan UT
From Interstate 15, take exit 293 (South Jordan) and travel west on 10600 South (which turns into 10400 South) 2.5 miles to the intersection of 2200 west. The band room sits on the southeast corner of the building, just off the diagonal parking lot.
Map It