Color Guard / Winter Guard
There are no images to shuffle.
Please add images to 'Winter Color Guard' from the admin system.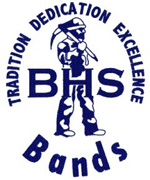 Color Guard / Winter Guard
    Welcome to the official page for everything regarding the BHS Color Guard.  Check back here often for information and announcements though out the individual seasons.  Details regarding the Fall marching season are also available under the 'Marching Band' tab or on the Band Calendar on the main page.  Also, check out our unofficial Facebook and Youtube sites below.