Media & Press Releases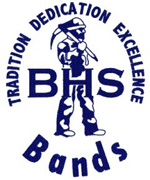 Media & Press Releases - The BHS Bands in the News!
More information, advertisements and press releases pertaining to the BHS Bands in the news are posted here so check back often!
Bingham Marching band now has a new new blog! Visit it at http://binghambandgiants.blogspot.com/ We want your marching band stories, remembrances, parodies etc. to put in the blog. Please email any submissions along with the year they were made to [email protected] and your entry will be put up on the blog to be preserved for all those who will one day stand on your shoulders!