3rd Per - Advanced Percussion
There are no images to shuffle.
Please add images to 'Percussion Ensemble' from the admin system.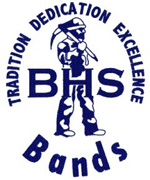 Advanced Percussion Ensemble (Core Class)
A participation fee and/or instrumental rental fee may be required or included with course fees for listed classes.


Advanced Percussion Ensemble 1.0 credit FA

Prerequisite: Previous participation for 1 year in BHS Intermediate Percussion Ensemble / Grades 10 - 12
Fees: $30 Course fee / Uniform fee / $50 District fee / $80 District equipment rental fee

The Advanced Percussion Ensemble is an advanced level percussion class with an emphasis on performing percussion solos and ensemble literature. Players from this group will perform as an individual percussion ensemble for concerts, region and state festivals, and perform with the Concert Band and Symphonic Band at festivals and concerts. They will also make up a large portion of the marching band battery and pit percussion sections. The class will include major study in the areas of snare drum, timpani, drum set, auxiliary and mallet percussion with testing in these area twice per quarter. Students will also be required to submit a weekly practice report, and a written percussion report every quarter. Purchase of a stick bag, curriculum manual, and a minimum stick inventory is required. Private study is highly recommended.