9th Per - Marching Band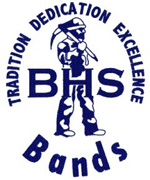 BHS Marching "Miner" Band (Non-Core Class)



A participation fee and/or instrumental rental fee may be required or included with course fees for listed classes


BHS Marching Band 0.5 credit FA / PE


Prerequisite: Ability to play a musical wind / percussion instrument, or physical ability to learn to spin flags, rifles and sabers / Grades 9 - 12
Fees: Course fee, Uniform / District fee, Tour fee (fundraisers provided).


The Marching Band is perhaps the most visual and publicly-viewed element of the BHS band program. The Marching Band at Bingham High School is a modern, "corps-style" band and begins rehearsals in early June to prepare for the fall season. The band works music sectionals throughout the summer leading to their fall camp in mid-August. The Band Calendar on the home page has all rehearsal and performance dates and times. During the fall marching season, marching band is held during the 9th period (after school) and meets Mondays & Wednesdays from 3 - 6 pm, and Thursdays from 6 - 9 pm with a few deviations. A few Friday evening or Saturday morning rehearsals may also occur.
Membership in the marching band requires concurrent enrollment in a department core class which includes Wind Symphony, Symphonic Band, or either of the Percussion Ensembles. Middle School students who participate in the Marching Band at BHS MUST make their commitment to their respective Middle School program their top priority, and must be enrolled in their home school band program in order to participate at BHS. Marching band is not a substitute for your music experience in middle school.
The Marching Band plays at all home football games, and performs a pre-game and half time show along with an after-game concert in the stands. The band also competes around the state of Utah and the mountain west against other same-classification bands. Eighth graders from the feeder middle schools should wait until their 9th grade year to enroll in the competitive fall marching band. Students should plan on a tour to southern California at the end of every season, and fundraising opportunities are available for students to participate in.


2017 - 2018 BHS Marching Band Section Leaders

Flutes Hailee Green
Clarinets Kelly Giles
Saxophones Emma Knadler
Mellophones Spenser Harrison
Trumpets Carson Hilton
Bari's / Euph's Arie DeHaan
Tubas Sophie Child
Battery Coleman Malstrom
Front Ens. Ally Ott
Guard Captain Ashlee Burgon


Students interested in marching band leadership should refer to the DM - SL Applications pdf below or under the Band Department Forms tab for the form needed to apply for a leadership position, and check the Band Calendar on the home page in March for dates and times for interviews. Fundraising information for the marching band are located under the "Fundraising" tab.


Check out the 2017 Program - "10-98" - The mp3 files and animations are below!