Trailers / Transport Info
There are no images to shuffle.
Please add images to 'Trailer / Transportation Information' from the admin system.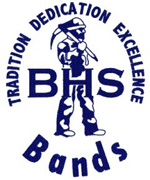 Trailers / Transportation Information
    The Bingham Bands currently have 2 trailers that we use for concert and marching band competitions, festivals, concerts, and general equipment transport.
    Our 24 ft. cargo trailer is used by the band boosters in the fall as a "chuck wagon" to transport food, meal preparation equipment, and other band support items for the marching band to competitions and other public performances.  After the fall season is over, it is reconfigured to be used by our winter color guard, drum line and concert bands to transport instruments and equipment to those group's competitions and performances for the remainder of the school year.  We are always looking for volunteers with the correct towing equipment, and signed up through the transportation committee, to pull this trailer for us.  
    If you would like to pull for the BHS bands, either attend the August parent meeting to sign up on the transportation list, or contact the Transportation Chair found under the Bingham Band Boosters tab and make arrangements to tow for an upcoming band event.  We also ask that you meet these simple safety requirements to protect our equipment and your vehicle:
Minimum Requirements:
 3/4 ton truck w/ V-8 or Diesel engine
Class 4 2" receiver hitch* and insert with 2 5/16" ball
Standard round 7-pin travel trailer plug with electric brakes
Electric brakes control actuator
Preferred Requirements:
One ton long wheel-base truck w/ V-8 or Diesel engine or larger
Class 4 2" receiver hitch* with insert and 2 5/16" ball
Standard round 7-pin travel trailer plug with electric brakes
Electric brakes control actuator
The Band will provide an equalizer hitch if needed or requested
* Tongue weight of the 24' trailer is about 750 lbs - a class 4 receiver is 
a minimum requirement
    Our 50 ft. semi trailer is used to carry all of the performance equipment for the marching band in the fall.  In order to pull our semi trailer, you would need to have a CDL issued by the state of Utah and your own tractor rig.  Currently, Pendleton Towing helps us with this important task and we are VERY grateful for all their help!.  However, if you have a Utah-issued CDL, own your own tractor rig, or are an independent operator, we would love to talk to you for the future!
Bingham Band Trailer Business / Corporate Advertising
    The BHS Bands sell advertising space on our band trailers to local businesses and corporate sponsors.  Your business info or corporate logo can be seen all across the state of Utah and the intermountain west on both our 24 ft AND 50 ft moving vans, and you will be supporting public education at the same time!    This is a great opportunity to make a huge difference for the many students that call the Bingham Bands home, and be a major part of the continued success of the bands at Bingham High!  
    The cost to advertise with the Bingham Bands is extremely affordable, and for just $500 per year, your 1' X 2' logo will be displayed on both sides of BOTH of our trailers for the entire year - 
a total of 8 square feet of space
!  These trailers travel from Logan to St. George and all points in between throughout the school year, and in fact travel to southern California with us every year on tour!  Space is still available and if you sign up early, you can have some input on the placement of your ad for maximum effectiveness!  We would also be interested in trading ad space for goods and services to the band of equal value!  Of course, purchasing an ad from the Bingham Bands is tax deductible!  
    Contact Mr. Graber or the Fundraising Chairperson for more information and availability, and join the likes of Big 'O' Tires, Salt Lake Travel, BMC, SME Steel Contractors, Yamaha, Harman, Desert Star Transport and others that are advertising with The Bingham Bands!  Check back here frequently for updates and info on how you can support the Bands at Bingham, and thanks in advance for purchasing advertising space on our trailers!