JSD All-District / Utah State HS Honor Bands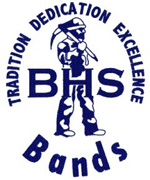 JSD All-District / Utah State HS Honor Bands Information
Performance information, sound files, and any forms regarding JSD All-District and Utah State Honor Ensembles for this school year can be found on this page. Go to the UMEA website to find audition materials and more information regarding the Utah All-State Jazz and Concert Band audition information. This year, nominations are collected and accepted for the JSD All-District Band, and are different as the Utah All state Band. Speak to your directors if interested - click
here
for audition materials.
Do not
use the existing pdf files below.
Jordan All-District Concert Band Dates
Guest Conductor - Tom Keck, Utah Valley University
Rehearsals and Concert are at Herriman HS
Auditions: December 2 Nominations submitted by 11:59 pm online (additional info coming)
Rehearsals: January 4 & 5 4 - 9 pm (dinner included both days)
January 6 9 am - 12 pm
Concert: January 6 3 pm
Students who are nominated for the ensemble will pay a $40 fee to participate which includes dinner both rehearsal days, and pays for our guest University conductor. Make checks out to 'Jordan District Honor Band' or pay cash in your school's Main Office.
Sample recordings for the 2018 JSDHS Honor Band selections will be available for download below once the program is set. After the concert, these will be replaced by the actual concert recordings and participating members can download their own copy of the concert. There is also a possibility that the concert will be live streamed online.
Utah All-State Band Dates
2018 Utah All-State Concert Band Dates - January 18 - 20, 2018
The audition deadline for the 2018 All-State Concert Band is 11:59 pm, November 12, 2017
Rehearsals @ Bingham HS, Concert at Abravanel Hall
District and State Audition materials can be found and downloaded here
Utah All-State Jazz Info
The All-State Jazz Audition Materials and dates will be up on the UMEA Website. Please click on the following link to take you directly there:
All rehearsals, dates, information, and audition materials can be seen by clicking on the GREEN button on the UMEA website. Audition Leadsheets, Etudes, Play-along recordings, etc are found when you click the GREEN button. Please see specific requirements but in general students will play the melody, an etude, and will improvise to "Autumn Leaves" along with a recording. Lead Trumpet, Bass Trombone and the Rhythm Section will have some additional requirements. The audition materials for this year are from the Maine Music Educators Association and are used by permission.

JSD All-District / Utah State HS Honor Bands