Drum Line / Winter Drum Line
There are no images to shuffle.
Please add images to 'Drumline' from the admin system.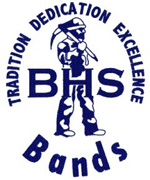 Drum Line / Winter Drum Line
    Welcome to the official page for everything regarding the BHS Drum Line. Check back here often for information and announcements throughout the individual seasons.  Details regarding the Fall marching season are available under the 'Marching Band' tab or on the Band Calendar on the main page.  
Congratulations to all those that auditioned this year!  It was very difficult to place everyone because of the level of excellence that all performers exhibited throughout the clinic and audition process. We believe this placement will give both the group and individual performers the best chance to be successful. If you have any questions or concerns about your placement, please don't hesitate to reach out to Mr. Peterson.
Please also contact Mr. Peterson if you have not yet received a contract and camps and clinics form.
Marimba 1 : Hans Ritter
Marimba 2 : Isaac Pulley
Marimba 3 : Simeon Matosich
Xylophone : Michael Powell
Vibraphone 1 : Samuel Foster
Vibraphone 2 : Lincoln Reed
Bells/Chimes : Lucas Campbell
Synthesizer 1 : Cassidy/Alex Worthen
Synthesizer 2 : Max Mansouri  (also playing sampler pad/sound effects)
Bass Guitar : Looking for a player
Drumset : Ashton Tenbrink
Auxiliary 1 : Andy Lee
Auxiliary 2 : Sam Hofheins
Snare : Jordan McMillan, Nathan Ferrier, Marissa Johanson
Quad : Wyatt Harding, Dereck Moore, Tyler Newbold
Bass : Gavin Morley-1, Katie Mcmillan-2, Zoe Knauss-3, Jayden Chamberlain-4, Moroni White-5
Technique Reference Videos
Mallets -