Drum Line / Winter Drum Line
There are no images to shuffle.
Please add images to 'Drumline' from the admin system.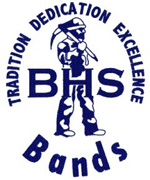 Drum Line / Winter Drum Line
    Welcome to the official page for everything regarding the BHS Drum Line. Check back here often for information and announcements throughout the individual seasons.  Details regarding the Fall marching season are available under the
'Marching Band'
tab or on the Band Calendar on the main page.  For any information regarding Drumline/Percussion that you can't find here or under marching band, please email Mr. Peterson, our Percussion Director at
[email protected]
If you are still interested in joining Drumline, email Mr. Peterson asap.
Fall Percussion Section Placements
     Front Ensemble
Marimba: Isaac Pulley, Samuel Foster, Lincoln Reed
Xylophone: Michael Powell
Vibraphone: Noah Hansen, Frank Campos
Bells: Luke Campbell
Auxiliary: Olivia Olson, Chase Bartlome
Synthesizer: Donovan DeVard, Tyler Mansouri
Bass Guitar: Claire Strand
Drumset: Soren Fjeldsted
     Battery
Snare: Nathan Ferrier, Marissa Johanson, Jayden Chamberlain, Simeon Matosich
Quads: Tyler Newbold, Dereck Moore, Zachary Johnson
Bass: Parker Newbold, Katie McMillan, Zoe Knauss, Christian Pinela, Andrew Blackham
Technique Reference Videos
Mallets -