Drum Line / Winter Drum Line
There are no images to shuffle.
Please add images to 'Drumline' from the admin system.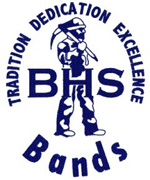 Drum Line / Winter Drum Line
    Welcome to the official page for everything regarding the BHS Drum Line. Check back here often for information and announcements throughout the individual seasons.  Details regarding the Fall marching season are available under the
'Marching Band'
tab or on the Band Calendar on the main page.  For any information regarding Drumline/Percussion that you can't find here or under marching band, please contact Mr. Peterson, the Percussion Director at
[email protected]
 or Mr. Graber, the Band Director at
[email protected]
If you are interested in joining the Bingham Drumline, email Mr. Peterson at any time for information.
Fall 2023 Marching Band Audition Results/Instrument Placements
     These placements are subject to change depending on the needs of the group and what will benefit the students the most in their education.  If you have any questions or concerns, don't hesitate to contact Mr. Peterson, he will always be happy to discuss any placements with you and your student.
Front Ensemble
     Marimba: Samuel Foster, Lucas Campbell
     Vibraphone: Donovan DeVard
     Xylophone: Quinn Burnham
     Glockenspiel: Madison Campbell
     Auxiliary: Zoe Knauss
     Synthesizer: Wesley Truman, Izzy Gilchrist
     Drum-set: Frank Campos
     Guitar/Bass Guitar:  Claire Strand, Jack Dunyon, Easton Tanner
Battery
     Snare: Jayden Chamberlain, Katie McMillan, Tyler Mansouri
     Quad: Dereck Moore, Noah Hansen
     Bass: Olivia Olsen, Chris Pinela, Cooper Hadden, Wyatt Howden, Joey McNees
Technique Reference Videos